SBA Affiliation Rules 13 CFR 121.103, Ostensible SubContractor Rule & SBA Joint Venture Rules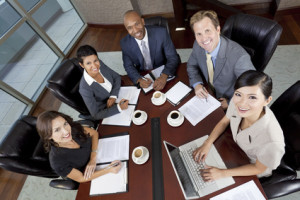 Small businesses tend to enter joint venture arrangements without a thorough understanding of SBA affiliation rules. This can be a costly mistake when competing for federal government contracts, simply because the contract can be taking away through a small business size protest due to findings of affiliation.
Besides the Ostensible SubContractor Rule, the SBA has launched a new set of rules that companies should be familiar with.
Without complying with the legal affiliation definition, the SBA can find that your company is affiliated either by joint venture or some other means of affiliation. When government contractors are also being investigated for affiliation, they must also meet the Ostensible definition that ultimately can lead to an unlawful contract award.
At Watson & Associates, our consultants and attorneys help small businesses nationwide engaged in SBA joint ventures and Mentor Protégé arrangements to meet the confusing SBA affiliation definition and rules. Get help with:
Small Business Size protests

Subcontractor Teaming agreements

JV agreements

Limitations on subcontracting

Compliance with SBA affiliation rules

Long-term consulting and legal representation
13 CFR 121.103 and 13 CFR 124.513 SBA Affiliation Rules
The SBA uses various legal approaches when seeing whether a small business meets the affiliation definition when performing with a subcontractor.  The basic rule under 13 CFR 121.103 and 13 CFR 124.513 is that affiliation exists when one business controls the other. It also applies if one business has the power to control another or when a third party as the power to control both businesses.
A JV of at least one 8(a) Participant and one or more other business concerns may submit an offer as a small business for a competitive 8(a) procurement, or be awarded a sole source 8(a) procurement, so long as each concern is small under the size standard corresponding to the NAICS code assigned to the procurement.

If approved by SBA, an 8a Participant may enter into a joint venture agreement with one or more other small business concerns, whether or not 8(a) Participants, for the purpose of performing one or more specific 8(a) contracts.
These are very fact-specific cases. Having the best small business joint venture lawyers on your team can help you to get through the complex legal issues.
Specific Language of SBA Affiliation Rules 
In order to receive the exclusion from SBA affiliation rules  for both 8(a) and non-8(a) procurements, the SBA joint venture must meet the requirements set forth in 13 CFR 124.513 (c).") Bidders must still be cognizant of the Ostensible Contractor Rule requirements and subcontractor relationships. See why the similarly situated small business rules do not always protect you from affiliation.
Under SBA joint venture rules, Small Business Joint Venture Agreements Must Meet Specific Requirements: Under 13 CFR 124.513 (c)(6), the joint venture agreement must itemize "all major equipment, facilities, and other resources" to be furnished by each of the JV partners. See information about nonmanufacturer rule issues for small businesses.
SBA Joint venture agreements containing generalized language will cause you to lose the contract under SBA rules.

Broad statements lack the specificity necessary to comply with 13 CFR 124.513 (c)(6). Similarly,

SBA affiliation rules require the JV agreement to specify the roles and responsibilities of the SBA joint venture partners, including how the joint venture will comply with the requirement of 13 CFR 124.513 (d) that the 8(a) BD Participant perform at least 40% of the company's work.
General Subcontractor Affiliation Meaning 13 CFR 121.103
The new SBA affiliation rules introduced a few significant changes that small business should be aware of when employing a subcontractor.
Bundled contracts and JV contracts. When the government issues a solicitation involving bundled contracts, a small business can enter into a teaming agreement with one or more small business without worrying about violating the affiliation meaning.
Each teaming member must be small must remain small under the NAICS code assigned to the prime or subcontract.
Businesses owned or controlled by married couples. When spouses own a small business (also parents, siblings, civil union), they are presumed affiliated if they all conduct business with each other. To avoid the affiliation presumption, the parties must show a clear line of fracture.
Ostensible SuContractor Rule – Ostensible Definition
One of the most common ways that the SBA finds that a small business is affiliated is through the Ostensible Subcontractor Rule. To meet the definition of Ostensible, the SBA will look to see if the prime contractor is unusually reliant on the subcontractor to perform the primary and vital parts of the contract.
Similar to the SBA's affiliation definition, the Ostensible definition is extremely fact specific.  Having an affiliation lawyer at Watson to review your teaming agreement or joint venture agreement for evidence of affiliation can save an awarded contract being taken away.
SBA affiliation regulations stipulate that "the joint venture must meet specific requirements of 13 CFR 124.513 (c) and (d) in order to receive the exception to affiliation" for mentor-protégé joint ventures. 13 CFR 121.103(h)(3)(iii).
Mentor Protégé and SBA Affiliation
Under the new rules, the protégé firm can escape the affiliation meaning when a large business owners 40% or less of the protégé firm. However, when the mentor protégé relationship ends, so to must the ownership. If the previous owner does not end, then the small business will be deemed affiliated with the mentor. See information about employment discrimination.
Joint Venture Rules – Definition & Meaning (13 CFR 121.103(h))
Under federal procurement, a joint venture (JV) is a form of business arrangement where two or more companies join forces to become the offeror/ bidder for a specific contract. The companies pool together their resources but with certain limitations. In addition to 13 CFR 121.103, FAR 9.6 also allows for joint venture agreements. See information regarding the SBA populated joint venture rule.
Under the new SBA joint venture rules, the SBA has made it clear that although JV entities can be still formal or informal, to meet the joint venture definition under 13 CFR 121.103(h), the agreement must be in writing.
An informal joint venture arrangement does not execute the requirement for a written agreement.
Under the joint venture definition, the SBA suggests that JV partners want to avoid the legal consequences of being a business partnership, then they should probably form a limited liability company.
Populated or unpopulated:  When small businesses enter into a teaming arrangement, it can no longer be populated with individuals intended to perform contracts awarded to the joint venture.
Important JV Agreement Tips. Get Your Free Copy
Call Our SBA Joint Venture & SBA Affiliation Lawyers for Immediate Help
If you are a small business seeking to secure government contracts with SBA joint venture rules  or teaming agreements, need help with SBA affiliation rules under 13 CFR 121.103 and 13 CFR 124.513, mentor protégé agreement, avoiding the ostensible subcontractor rule definition or other teaming relationship, call our 8a certification lawyers and consultants for a FREE Initial Consultation. Call 1-866-601-5518.